1 st Anniversary celebration includes free rides, giveaways, prize drawing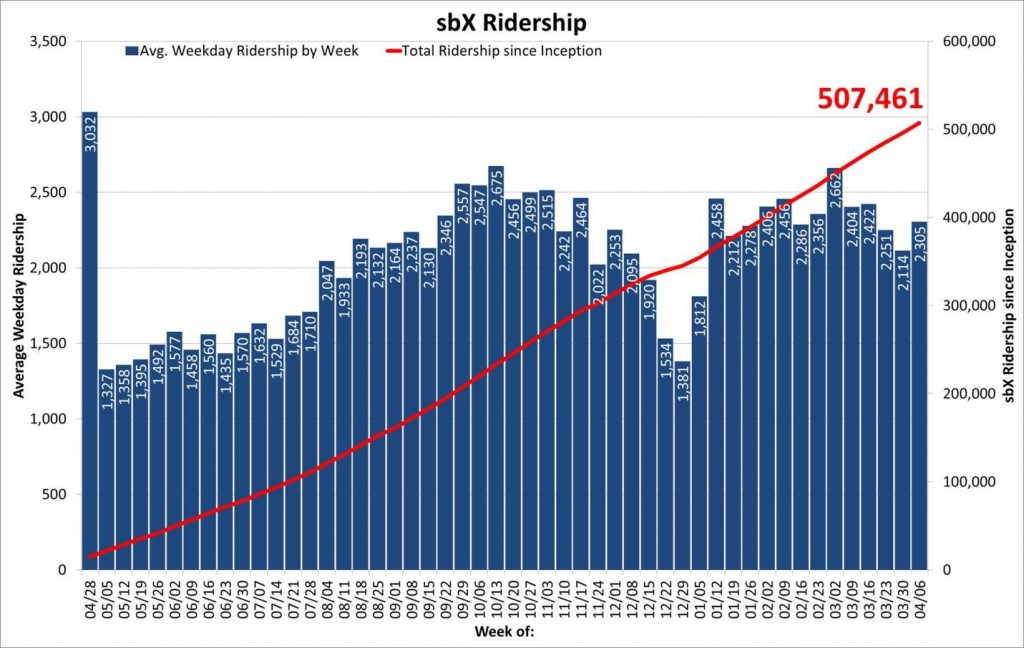 SAN BERNARDINO, CA-  Over half a million riders have climbed aboard the sbX rapid transit line serving Loma Linda and San Bernardino since it launched a year ago. Omnitrans is marking the anniversary with free rides, daily giveaways at sbX stations and a sweepstakes drawing that would provide a year of free rides to the winner, among other things.
sbX launched on April 28, 2014 with a free week that attracted over 3,000 riders per day on average. Since fare collection began on May 5th , average daily ridership has grown from about 1,325 to 2,375, an increase of 79 percent. "We expect sbX ridership to grow by another 30 percent by next year, mostly due to the opening of San Bernardino Transit Center in September," said Omnitrans spokesperson Wendy Williams. The sbX station on E Street at Rialto Avenue is adjacent to the new transit center which will be the hub for 13 Omnitrans bus routes, making for easier connections.
As part of the anniversary celebration, sbX free ride coupons good any day from April 27 through May 1 are available online at http://www.omnitrans.org/services/sbx/promotions/. Contest entry forms are available on board buses or online. Daily giveaways focus on the many destinations along the sbX line.
April 27 – Take sbX shopping. 1,000 shopping bags giveaway on board and at stations all day.
April 28 – Take sbX to the game. 100 IE66ers baseball tickets at the Rialto St. Station, 11 am to 1 pm.
April 29 – Take sbX to lunch. Restaurant coupon giveaways at all Hospitality Lane stations, 11 am to 1 pm.
April 30 – Take sbX to work. Free sbX travel mug when boarding at Loma Linda or Palm & Kendall Park-and-Ride Stations, 6 am to 9 am.
May 1 – Take sbX to the Movies. 100 Regal Cinema tickets at Court Street Station, 1pm to 3pm. The one-way fare on sbX, and all Omnitrans bus routes, is $1.75; a 1-day pass is $5. 7-day and 31-day passes offer savings for frequent riders. Persons with disabilities, seniors age 62 and up, US military veterans and youth age 18 and under, qualify for discounts.