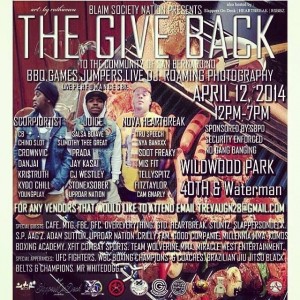 It's ya' girl Ms. LUE and this week this is "What It Do"! I would like to highlight an important event happening in our city this Saturday, April 12. Blaim Society Nation presents: "The Give Back".  A local community event giving back to the city of San Bernardino, hosted by Slappers on Deck, Heartbreak, and Roc Star BBZ.
In light of all the recent killings, community members young and old are fed up! Several entities have come together to take a stand against VIOLENCE through the sound of music. The event will take place this Saturday, April 12 at Wildwood Park on the corner of 40th street and Waterman Avenue in San Bernardino from 12 p.m. to 7 p.m.
Event coordinator, professional boxer and Mixed Martial Arts Fighter, Trevaugn Moore stated that, "A great community event featuring a positive movement for the city of San Bernardino including all ages from the past, present, and future is needed. Too much negativity has been spread throughout our city long enough. It's now time for something positive to come about. This is a start to stop the violence, killings, and corruption in our city."
The day will consist of performances from local artists and artists from surrounding cities. Families will be able to participate in the free activities, food, and fun. There will be special appearances by professional UFC Fighters, World Class Boxing coaches, and Boxers. Please jump in the fight and help promote and bring PEACE to the City of San Bernardino. Until next time take care and let someone know how much you care. The world needs more LOVE!