Looking to impose tougher laws on bullying
Submitted by Dr. Spinner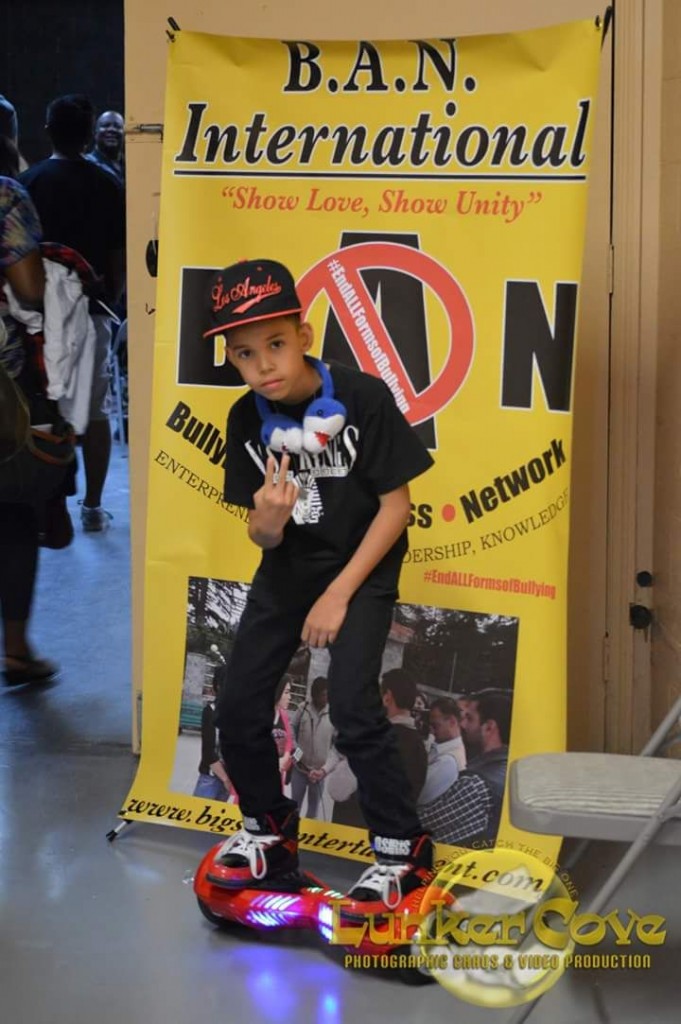 LOS ANGELES, CA—It was cold breezy day, missing her family, Dr. Spinner's wife, renowned Boca Raton Attorney, Nekishia L. Spinner, is yet not frazzled due to her assignment of going to the White House to bring forth change through prayer and supplication, in regards to Bully Awareness Network's initiative of ending all forms of bullying.  One of the objectives of BAN is to get legislation passed that will impose tougher laws against bullying in schools.  Conversely, many miles away on a different coastline, her husband hosted the Move 2 Improve Tour, which was a youth empowerment event that encouraged youth to embrace their unique talents and gifts in the arts.
Saturday night at the Chuco's Youth Justice Center, you can hear the thumping, all of sudden youth begin to scream, not in fear, however out of excitement as Shane Sparks enters the building.  Later, Aarona Lopez comes into to the facility showing the teens some Wild N Out fun.  Oakland Rapper, Kayla B., "it was a night truly to remember! "  Reverberating music provided by some of Disney and Nickelodeon's finest social media stars and headline teen acts such as Korina Davis, one of, if not the best violinist in the world, Pynk Lemonade, Aliyah Moulden, Faithy J, and The Johnson's Twins, "definitely, they are some of the best young talent in the country, which very few can match!"  "These young people spend countless hours perfecting their artistry, which we have an artist development program as well as teach kids about how to become an entrepreneur."  One artist, Faithy J, is selling a book entitled, "You Are Never Too Young to Get Started," while another Aliyah Moulden will be learning how to form patterns, make textiles, and create her own special creations all under her signature brand, under the tutelage of Christia'n Annice, who designs adolescents clothes out of her boutique, Issis Sky.  The Bully Awareness Network welcomes her participation in part of their Young Executive Entrepreneur Academy (Y.E.E.A.)!  "We will continue to develop leaders that reflect our culture, climate, and cognitive state, resonating the message to end all forms of bullying, states Dr. Spinner, Founder and President of BAN. He continues to add that, "we have to replace the wayward behavior with positive reinforcement."   Lastly, Dr. Spinner is ecstatic to see another entrepreneur Kali Raah coming out of the program to bring his T-Shirt Line Kali Raah.   Additionally, Dr. Spinner, he is firmly committed to the youth being empowered as Bryce Xavier, vehemently and passionately shared their personal encounters with bullying,  as well as spoke the dire need of social reform.
Several celebrity guest came out to show support towards Dr. Spinner's initiative, Ro Brooks, who shared with the kids how to become an actor and what it takes using quotes from his book, "How to go from Extra to ACTOR." Shane Sparks, of America Best Dance Crew TV Show,  if not the top choreographer in the world, spoke about the discipline that is required to become a top dancer and performer; Tony Nicholas, son of legendary tap duet group, the Nicholas Brothers, and a special appearance was made by Miss California 2015, Erika Abke who spoke about teen domestic violence.  In addition to being broadcast live by 1580 AM Da Radio Show.
Next on the tour line, November 21, as BAN pulls together five community churches and feeds up to thousand people a Thanksgiving Meal, while promoting their initiative with BAN guest speakers, hosted by Dr. Spinner, Tenise Taylor (Bullying), Shelia Peters (Protecting your kids from Sex Trafficking), and Joi Hall (Teen Domestic Violence) as well as some of the best young talent in the country performing.  Thereafter, Dr. Spinner has scheduled a tour in early December for teens to tour the college campus of USC.  We need to continuously keep our kids engaged and I look forward to signing up as many kids possible, regardless of age.
Next, we are having our Free Toy Drive and Christmas Concert that is going to have absolutely, "hands down the best talent on the planet, as I have been getting calls from various record labels as well as vp's from Sony, DreamWorks, Hollywood Entertainment, wanting to come the event to hear the young people perform."  Dr. Spinner welcomes all"clean" acts "as we are promoting a new culture of substance as well as purpose."
December 22 event, which will lead up to the Martin Luther King Parade, January 18, 2016 that will be televised live on Channel 7.  "We are honored by the committee to have selected BAN to be part of this amazing event, which I look forward to getting the kids out and being a part of history in a major way!"  You can continue to follow the Move 2 Improve Tour on FB at Bully Awareness Network.
"We need everyone's support, as we will have several events coming up starting with Men and Boys (Teen) Domestic Violence Forum, our semiannual forum on domestic violence and sex trafficking conference, and our anti bullying talent showcases. "
If you would like more information about this topic, please contact Dr. J.J. Spinner at 323 301 2416 or email at Bullyawarenessnetwork@gmail.com.