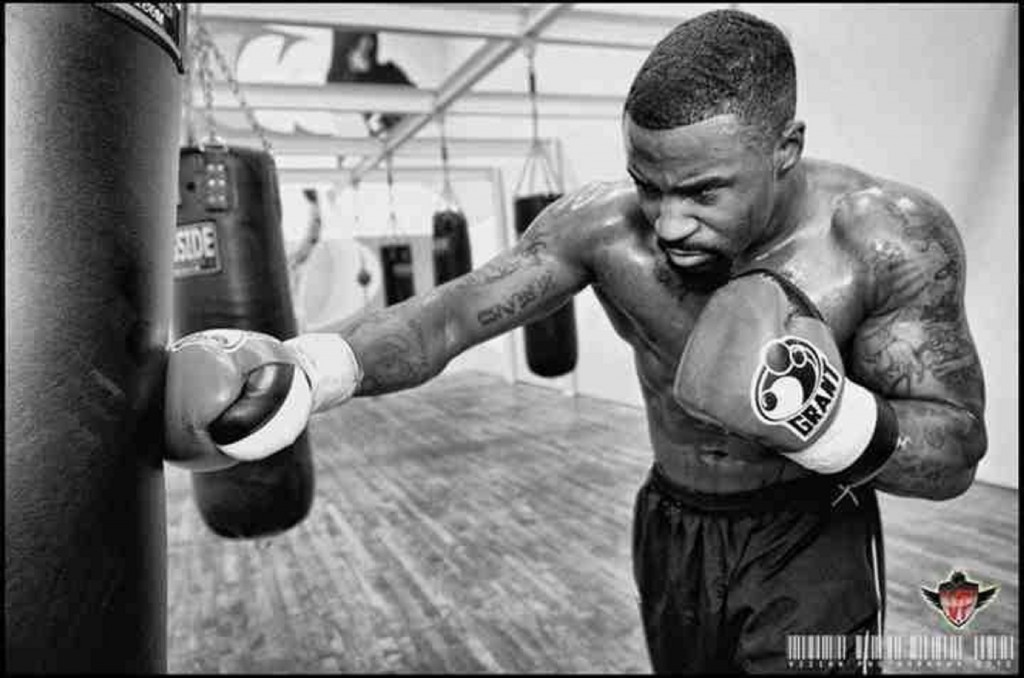 By Naomi K. Bonman 
In the world of sports becoming the greatest is more than just being good at a particular sport. Being great goes beyond the skill set that one has and goes deeper within the athlete's personality traits. Baltimore native and Trea Day Management and Publicity client, Rock Blackwell, is one of those greats. He demonstrates prominence not only in the ring, but within the community.  He is able to remain humble and above all determined when it comes to reaching any goal that he has set. In a recent interview with the boxing champ, he discussed his inspiration for boxing at an early age, his experience in being trained by boxing legends, and his upcoming fight in Minnesota in December where he will defend his WBU America Title.
Since the age of seven, Rock Blackwell knew that he wanted to be a boxing champion. Once he realized that he never gave up on that goal and set out to accomplish it. "I was determined to get it done," he states. "It was one of those things that I couldn't walk away from or else my life would feel meaningless if I didn't pursue it. I kept the faith and stay determined."
And that determination led him to a few great accomplishments before he went professional. He earned an incredible 156-28 record including becoming the winner of the South Atlantic Championship.
"It was exciting!" Blackwell explained. "It was more so confirmation that I could do this because [at times we're always questioning ourselves of whether or not we can do something]. Winning that championship motivated me to do more, keep pushing, and work harder."
Hard work and persistence is what continued to push the rising champ to new heights. As a professional boxer, he joined the International Boxing League (IBL) where he outclassed all challengers on his way to a 15-0 record. By him excelling within the IBL, he was rewarded be being able to travel and box overseas. Although nervous at first, by him being an American boxing in different countries, he quickly adapted after experiencing the support and love shown to him. Blackwell's favorite place that he has traveled to was Scotland.
"When I went to Scotland that was awesome," he said. "They showed me a lot of love. Everyone embraced me and made me feel like a Scottish man. It was a very great experience."
In addition to the countless voyages that the Baltimore native was able to endure, he was also granted the special opportunity to hone his fighting skills while in the IBL from training legends Roger Mayweather, Floyd Mayweather Sr., and Freddy Roach. Each of these individuals taught Blackwell something different. Freddy Roach, who is an offensive coach, taught Blackwell how to sharpen his skills in the ring offensively. On the defensive end, the Mayweather's showed him how to become better defensively where he worked on his footwork, head movements, and other defensive moves.
"Just to be able to sit and learn boxing from them was amazing!" Blackwell said.
From his numerous accomplishments, trips around the world, and lessons from the legends, Blackwell stated that those things alone does not make him a great. Yes they may make him a good boxer, but he states that, "Personally, I think that being great is what you do for others. It is being a servant to the community."
During his time away from the ring, Blackwell loves going out in the community and reaching out and feeding the hungry. He recently joined the #HTLB (Hashtag Lunch Bag) movement where he is part of a community of people that pack and distribute 1,000 lunches to the homeless community. While he does his civic duties in the city, he offers nourishment to the body and mind while interacting with the less fortunate. His humble rise to super stardom keeps him forever grounded and devoted to helping others out.
Next up for the rising champ is prepping for a big fight in Minnesota on December 10 where he will defend his WBU America Title. He will be going up against JJ Flint.
While he is preparing for his upcoming fight, he has his iPod loaded with his favorite music to motivate him as he is training to before the big day.
"I'm a music junkie," he states. "I listen to a mixture of everything from Hip Hop to R&B. My favorite artist is Drake. I think he is amazing and I can relate to his music. But overall, I just love music."
Blackwell would love to leave everyone with a few words of encouragement and motivation which is:
"If you want to accomplish something stick with it. If you really focus on it during both the good and bad times and give it your all, you will be victorious and accomplish it. A lot of people get discouraged on the road to success because of certain things that tend to hinder them on the way, but if you just hang in there and don't give up you will get it done."
He continues, "You are powerful beyond measure. Whatever your most dominant thought is, is what you will become."
To keep up with Rock Blackwell, follow him on Instagram @RockBlackwell. For more information or to book Blackwell, please contact Trea Davenport with Trea Day PR at treadaypr@gmail.com or by calling (678) 327-8281.